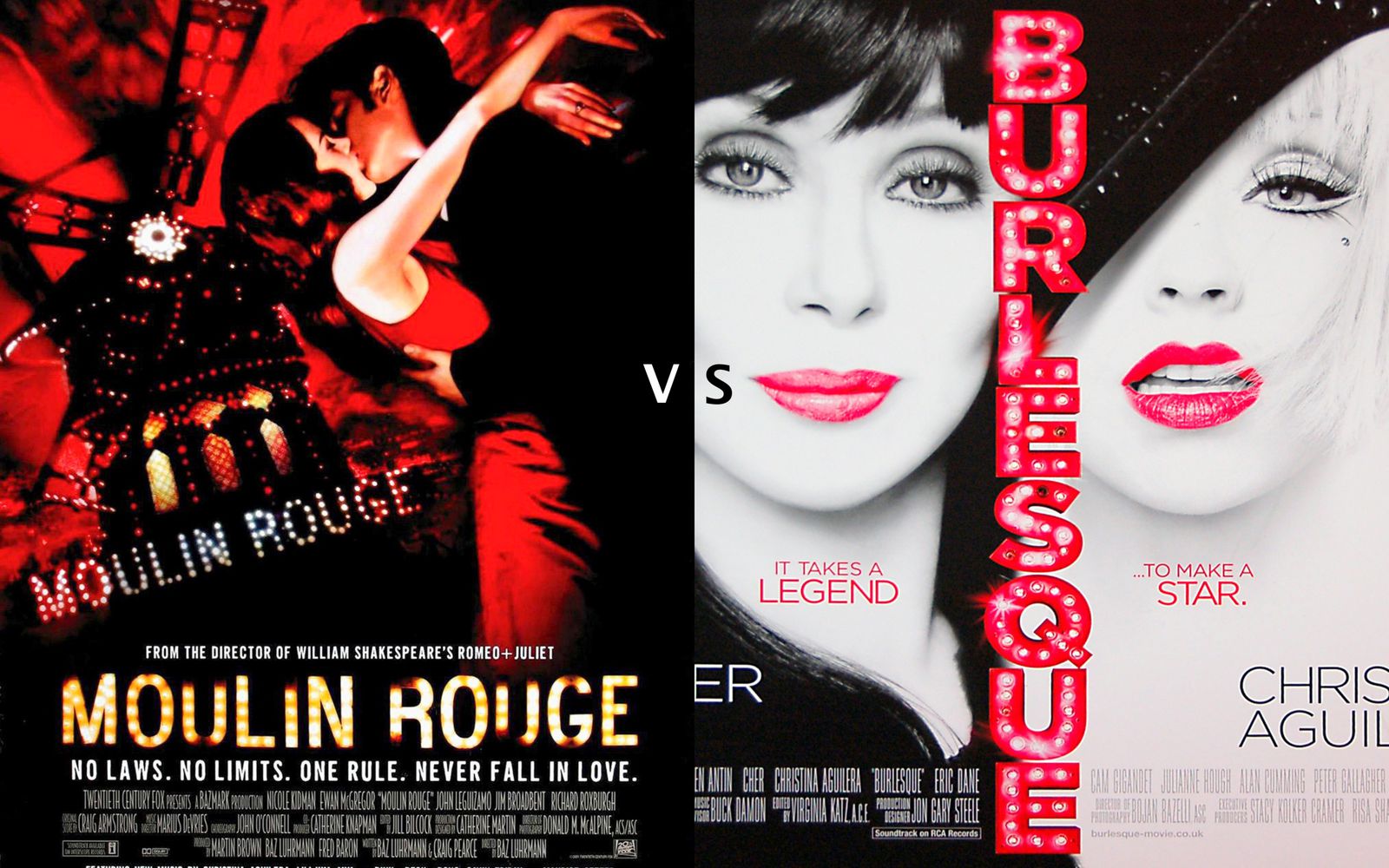 Between the thrillers, the comedies and the action movies, we have a tendency to forget a really interesting and entertaining kind of movie: musical films.
Some of you have classics in mind, such as "Singin' in the Rain", others will think about "Grease" or "Chicago". However, this type of film has always find a interested and demanding audience.
The time has come to confront two musical movies: Moulin Rouge (2001) and Burlesque (2010). I find that it is interesting to compare a really famous movie and a more recent one and see the good things and the flaws in each one.
But, first of all, what are they about?
Moulin Rouge:
SYNOPSIS: Paris, 1899. A poet named Christian (Ewan McGregor) just arrived in Montmartre. Between drugs, alcohol and french cancan, he discovers another world. His dream is to write a theatre play and a painter named Toulouse-Lautrec is ready to give him a shot because he needs an extraordinary show for his cabaret Moulin Rouge. Christian, hired, falls in love with the beautiful dancer Satine (Nicole Kidman)...
Burlesque
SYNOPSIS: An ambitious young woman with a beautiful voice (Christina Aguilera), leaves her town for Los Angeles. Hired in a neo-burlesque club, she is going to meet fame and success.
The battle will take place in three stages: first the visual part (set, costumes, dance), then will come the audio part (essentially the singing), and to conclude, we will talk about the general quality of the movie (including acting, scenario).
VISUAL PART
The global look of a movie is particularly important: it gives the atmosphere, the global mood of a movie. So, which movie is the best in this field?
Moulin Rouge is all about visual: the action takes place in a "fake" Paris, entirely made on computer, digitized. As usual, Baz Lurhmann (Romeo+Juliette, The Great Gatsby - link to my critic here) pays attention to the details: the costumes are studied, the colors fit together (or not, but it is on purpose). The whole movie is an explosion of colors, firework and visual effects. But it might seem too much, too baroque. All of this details hit your eyes and it might hurt. The dances are great when they are in the cabaret scenes but when it is more private, it doesn't look natural and spontaneous at all.
This what Burlesque is all about: dancing for fun, dancing because you like it. Dancing because it is in your veins. The main character was obviously born to dance and you can feel it when she starts dancing: she can make you feel something.
Of course, the sets and the costumes are not on the same level than Moulin Rouge (probably because of the budget) even if they are great and totally fit to the story and the show.
AUDIO PART
In a musical movie, the audio part is basically why you are watching the movie. To hear a beautiful song sung by a good actor/singer.
Successful mission with Burlesque: on the stage, Christina Aguilera and her strong beautiful voice. Backstage, Cher, who keeps singing really good even if her plastic surgery seems to keep her from moving her lips. Every song was written for the movie.
One of my favorite song is the last one : "Show me how you Burlesque", even if it is not the most impressive vocally, it really gives you energy!
On the other side, Nicole Kidman looks really pale, with her tiny voice, and Ewan McGregor is even worse. The only interesting song (according me) is the cover of "Roxanne" by the Police but it is not sung by a main character.
All the songs of this movie are covers from famous artists: Madonna, the Police, Nirvana, Elton John, etc. And the covers are - most of the time - less good than the originals!
RANDOM
In both movies, the acting part was fine.
Moulin Rouge's scenario is probably more original than Burlesque's but it can be argued: Moulin Rouge is another "cliché" love story.
And this stereotype is the biggest flaw: it is too sentimental and too much about love and sadness (in a desperate way). It is supposed to make you cry but it is so obvious that it dispels any feeling.

Burlesque's scenario is not original: a girl coming from countryside to Los Angeles becomes famous because of her great voice. But, at least, the movie is not focused on one thing. A lot of topics are approached (love, friendship, financial problems, the comedy side of the movie is highlighted) but of course, the music and the dance are in the spotlights and that is a really good point.
CONCLUSION
The choice is yours: if you prefer a sad and depressing movie (maybe even touching, if you really get into the movie), choose Moulin Rouge.
If you like to dance, if you prefer to laugh, if you can appreciate a really good voice, and if the scenario doesn't really count for you (in comparison with the vocal part) I would definitely recommend Burlesque, it is an energetic movie!

Pour être informé des derniers articles, inscrivez vous :